Understanding Respiratory Compromise
Respiratory compromise is a common, costly, and often deadly progression into respiratory insufficiency, failure, and arrest.
It is preventable in the majority of patients through early detection and intervention.1
Watch a short animation from the Respiratory Compromise Institute about how you can protect your patients.
1. Morris TA, Gay PC, MacIntyre NR, et al. Respiratory compromise as a new paradigm for the care of vulnerable hospitalized patients. Respir Care. 2017;62(4):497–512.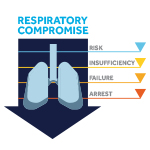 To learn more about Respiratory Compromise, take a look at these helpful resources:
Would you like updates on Respiratory Compromise sent directly to your inbox? Subscribe today!
TOPIC: Microstream™ Capnography Monitoring, Procedural Sedation, Respiratory Compromise