Preventing Oversedation Claims with Better Monitoring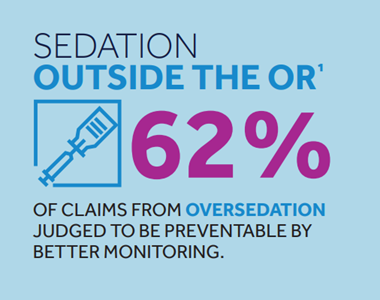 Use of moderate to deep sedation is a growing trend during interventional radiology, GI, and other procedures.
One analysis of cases that resulted in patient injuries and deaths concluded that 62% of lawsuits from oversedation were judged to be preventable by better monitoring.1
Click here for a summary of the closed-claims analysis or read the study.
Would you like updates on Respiratory Compromise sent directly to your inbox? Subscribe today!
TOPIC: Respiratory Compromise
1. Metzner J, Posner KL, Domino KB. et al. The risk and safety of anesthesia at remote locations: the US closed claims analysis. Curr Opin Anaesthesiol. 2009;22(4):502–508.